Best Books About Glutathione


This is the list of books we highly recommend that you read as they are a comprehensive source of information on Glutathione (GSH) and immune health written by the doctors and researchers who are the internationally renowned experts on the topic.



1. "Glutathione (GSH) - Your Body's Most Powerful Protector" by Dr. Jimmy Gutman, MD, FACEP.

3rd edition of the international health bestseller
September 2004
Paperback, 270 pages
Publisher: Kudo.ca Communications Inc., Montreal, Canada


Glutathione (GSH) is the body's most powerful protector and healing agent - much more than just another antioxidant. It also protects us prom bacteria, viruses, toxins, pollutants and even cancer. It maintains our immune system in tip-top shape - as long as our cells get the building blocks they need to produce this remarkable molecule. In this book, Dr. Jimmy Gutman explains why you need to raise your glutathione levels and how your immune system, antioxidant system and detoxification system all work together with glutathione to minimize the threats of disease, aging and environmental pollution.
This book is written in easy to understand language for both medical professionals and the general public.
It provides an overview of the role of glutathione in the body and thoroughly covers the role of glutathione in health and healing. The benefits of raised glutathione are discussed in the following medical conditions: cancer, aging, Parkinson's disease, Alzheimer's disease, heart disease, stroke and cholesterol, diabetes, liver diseases and hepatitis, AIDS, multiple sclerosis, lung diseases, digestive diseases, kidney failure and dialysis, eyes, ears, nose, throat and teeth diseases, pregnancy, lactation and childbirth, trauma and burns, psychoneurobiology, seizures, skin disorders, male health, and stress. Each chapter is accompanied by a list of references to the latest scientific research.
"This book provides access to the cutting edge of one of todays' hottest research topics - glutathione in health and illness. Reading it will open a new world of discovery. I highly recommend this book to everyone from fellow researchers to those interested in improving their health" Dr. Jean Marcoux, MD, FRCP(C), Chairman, Advisory Board of the American Lung Association, Houston, TX.
"[It] is the most complete, up-to-date and readable reference I've ever seen on the essential issue of antioxidant supplementation with GSH. I recommend it." Dr. Ronald Klatz, MD, DO, President, American Academy of Anti-Aging Medicine.


The 4th revised edition of this book was published in 2008 (renamed "Glutathione. Your Key to Health"):


---
2. "Glutathione. Its Role in Cancer & Anticancer Therapy" by Dr. Jimmy Gutman, MD, FACEP.


Paperback, 31 pages, 2005
Publisher: Kudo.ca Communications Inc., Montreal, Canada


Why your body needs a regular supply of this critical substance and how it can help prevent the onset of cancer, and ease the side effects of chemotherapy and radiation therapy.
This brochure about glutathione concentrates on its role in the most feared of diseases - cancer. Here you will find a brief overview of glutathione, of cancer as a disease in general, its causes and connection to depleted glutathione levels, and you will find answers to many questions on how raising glutathione can help in both prevention and treatment of this disease.
Information on clinical trials and abstracts of research articles included in this brochure can be of interest to both medical professionals and general public.


---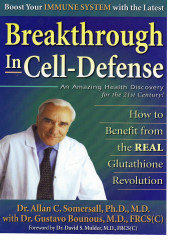 3.
"Breakthrough in Cell-Defense"
by Dr. Allan C. Somersall, PhD, MD, and Dr. Gustavo Bounous, MD, FRCS(C).
Paperback, 272 pages, 2001
Publisher: GOLDENeight Publishers, Toronto, Canada


Boost your immune system with the latest breakthrough in cell-defense. An amazing health discovery for the 21st century will reveal how to benefit from the real Glutathione revolution. This book is written to increase your knowledge of a recent development in support of the immune system...It makes a fascinating story.
"Breakthrough in Cell-Defense" presents the fascinating story of the discovery of Immunocal and establishes Dr. Gustavo Bounous as the father of trophic nutrinional therapy". Dr. Thomas A. Kwyer, MD, FACS, otorhinolaryngologist, Michigan.


"I've heard many times "If something sounds too good to be true, it probably is not". As a practicing physician and surgeon, I've found this to be usually true, but Breakthrough in Cell-Defense shows that Immunocal is an exception. It has met and passed each test of science so far, and we are only at the beginning...We all owe a debt of gratitude to Dr. Somersall for bringing the life and work of a great man to our attention. We owe an even greater debt to Dr. Bounous, a gentle and kind spirit, physician and surgeon, and the ultimate scientist". Dr. Robert D. Biggers, MD, FACS, urologist, Colorado.


This book is a biography of Dr. Gustavo Bounous, the discoverer of immunoenhancing, glutathione raising properties of a simple substance - undenatured whey protein - which one day was brought to Dr. Bounous' laboratory at McGill University for analysis as a by-product of cheese production. He discovered that undenatured whey protein can raise and maintain glutathione levels, safely and naturally.
It is a truly amazing story of a scientific breakthrough, its hopes, seeming failure and then triumph, and it reads like a novel:


---
Immune Health Bookshelf
You can find more books on glutathione, immune health, nutrition and healthy cooking by visiting our Immune Health Bookshelf at Amazon.com, where we share our recommendations.
Read our
Affiliate Disclosure
Return to Home