Brief Biographies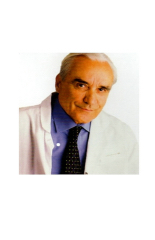 Dr. Gustavo Bounous

July 10, 1928 - December 26, 2011
Dr. Bounous developed the method for the production of undenatured whey protein which was given the proprietary name Immunocal/HMS 90®. It became the standard by which all other whey products eventually had to be measured.
Educated at the University of Turin and the University of Genoa in his native Italy, Dr. Gustavo Bounous' distinguished career in medical research began as a Research Fellow in surgery at the Indiana Medical Center, Indianapolis.
In 1963, he moved to Canada and began an academic career that led him to become Professor of Surgery, first at the University of Sherbrooke (1973-1985) and then at McGill University (1985-1993). Dr. Bounous was awarded the 1965 medal of the Royal College of Physicians and Surgeons of Canada. He pioneered the use of elemental diets in the prophylaxis and treatment of intestinal lesions associated with shock, intestinal ischemia, radiation, cancer chemotherapy and Crohn's disease. In 1968, he was named Career Investigator of the Medical Research Council, an award that was reconfirmed until 1993, the year of his retirement from McGill University.
In 1978, Dr. Bounous initiated a novel research program in conjunction with colleagues from the McGill University Faculty of Medicine to search for a dietary protein source that would boost the immune system. Their research led to the isolation and preparation of an undenatured milk concentrate that helps to sustain normal glutathione levels and a strong immune system. Subsequent identification of the active ingredients present in this protein mixture led to the development of a high-quality bioactive material given the name and trademark Immunocal / HMS 90 in 1993.
In addition to being honored as a Career Investigator of the Canadian Research Council, Dr. Bounous is a recipient of the Medal of Royal College of Physicians and a lifetime member of the Research Council of Canada.

Click here to read Dr. Bounous's research articles on the immunoenhancing properties of bioactive whey protein.



In Memory of Dr. Gustavo Bounous whose breakthroughs contributed greatly to the science of immune health:
---
Dr. Wulf Dröge
Dr. Dröge was the first to describe the effect of Glutathione on the immune response of a living organism (1986) and to discover the abnormally low cysteine and Glutathione levels in HIV patients (1988/1989). In a series of clinical studies, Dr. Dröge investigated the effects of cysteine supplementation on the immune system in healthy humans and HIV patients and on weight loss in cachectic cancer patients. Presently, Dr. Dröge is actively engaged in the design of clinical studies and organizes research activities in cooperation with colleagues at McGill University and other leading scientific institutions.
Dr. Dröge has devoted more than forty years to basic and clinical research that form the basis for the design of safe, effective new Immunotec products such as Immunocal Platinum.
After his doctorate at the University of Freiburg, Dr. Dröge conducted research at the Max-Planck Institute of Immunobiology in Freiburg, Germany, and the University of Minnesota, with renowned immunologist Dr. R.A. Good. Subsequently he served for three years as a research fellow at Harvard University and for four years as a scientific member at the world-renowned Basel Institute for Immunology. What followed was an almost 30 year career as a professor of immunology and cell biology at the University of Heidelberg and head of the Department of Immunochemistry at the National Cancer Research Center of Germany (Deutsches Krebsforschungszentrum). His international reputation in the field of redox physiology and aging research is based on more than 280 publications in international scientific journals. His research has been focused on the areas of redox regulation and signaling pathways, pathogenesis of HIV infection, the mechanisms of disease-related wasting and aging, and the action of tumor necrosis factor.
After his retirement, he moved to Canada to join Immunotec Research, Inc. as the head of Research and Development, and contributed greatly to the knowledge of the benefits of cysteine supplementation with Immunocal and Immunocal Platinum. Dr. Droge served in this position until his passing in 2010.



---
Dr. Jimmy Gutman
Dr. Gutman is a practicing physician with extensive experience in academic, administrative, and clinical medicine. Prior to joining Immunotec Research Inc., Dr. Gutman was Chief Resident in Emergency Medicine at Emory University in Atlanta, Georgia, and Undergraduate Director and Residency Training Director of Emergency Medicine at McGill University in Montreal, Quebec, and has served on the Board of Directors of the Canadian Association of Emergency Physicians.
An expert in the field of Glutathione in health and illness, Dr. Gutman has spent the last several years lecturing on this topic worldwide. He is the author of several books on Glutathione. As medical consultant to Immunotec, Dr. Gutman helps to ensure the safety of Immunotec products and teaches the science and significance of glutathione enhancement to broad audiences of medical professionals and non-scientists.

Click here to review the books written by Dr. Gutman and Dr. Bounous


Watch Dr. Gutman explain the role of Glutathione
in immune health:





Return to Top of Brief Biographies
Return to Home
Return to Glutathione
Return to Immunocal